Rooms for 2-3 persons for rent in Palanga, in Jurates street
Partneris
Member since 2008 year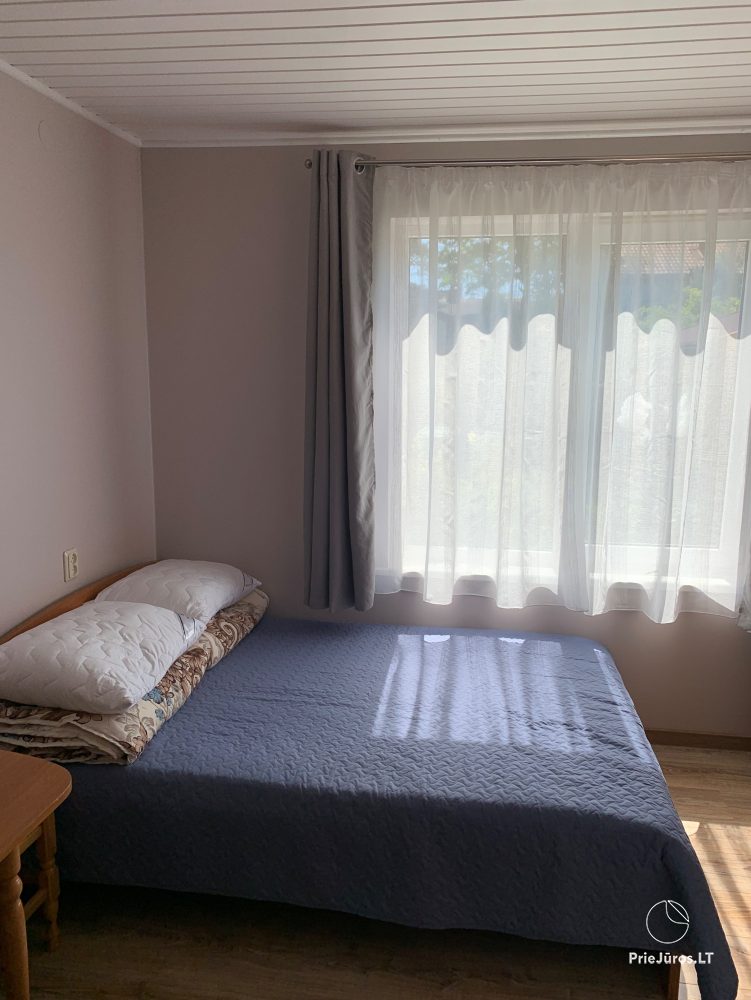 Updated 31 May, 2023
Double and triple rooms for rent in Palanga in warm season.
Each room has an individual toilet, TV, refrigerator, microwave oven, kettle, there are also plates and cutlery
Rooms have beddings.
Free place for a car in an eclosed yard.
Wooden house, 2 storey, newly refurbished, plastic windows.
Close to the sea - 300 m, close to J. Basanavicius street, bus station - about 500 m.
Availability calendar
available
booked
closed

Calendar updated – 2023-05-31 08:21
Contacts and information
Address

Jūratės g. 16A, Palanga, Lithuania Map

We speak

Lithuanian, English, Russian

Phone no.

+370 618 32371 (LT, EN, RU)

Viber phone number

+370 618 32371

Whatsapp phone number

+370 618 32371

Website

Open

seasonal

Minimum stay

high season – 3 nights
low season – 2 nights
Facilities

Separate entrance from the outside

in some rooms

Shower and WC

in every per room

Refrigerator with freezer compartment

in every per room

Microwave oven

in every per room

Wireless internet (Wi-Fi)

in every per room

Cable / SAT TV

in every per room

Twin beds

in every per room

Bedding (free)

in every per room

Towels (free)

in every per room
Approximate distances
Approximate distances

Palanga sea bridge

~

840 m

Nearest Cafe (restaurant)

~

50 m

Palanga bus station

~

1.53 km
Number of rooms / capacity
Number of rooms

4

Rooms

doubles, triples

Area

15 m²

Available number of guests

10
Price per room per night
High season
High season
from 15 to 60 € per night
Policies
Check-in

from 13:00

Check-out

to 11:30. Late check-out is available by prior arrangement only to 16:00

Quiet time

from 21:00 to 08:00

No smoking inside

Accommodation with pets

allowed by prior arrangement (extra charge)

For parties

not for rent

Minimum stay

high season – 3 nights
low season – 2 nights
View larger map // Navigate to Jūratės g. 16A, Palanga, Lithuania