Hotel "MŪZA" in Palanga
Partneris
Member since 2010 year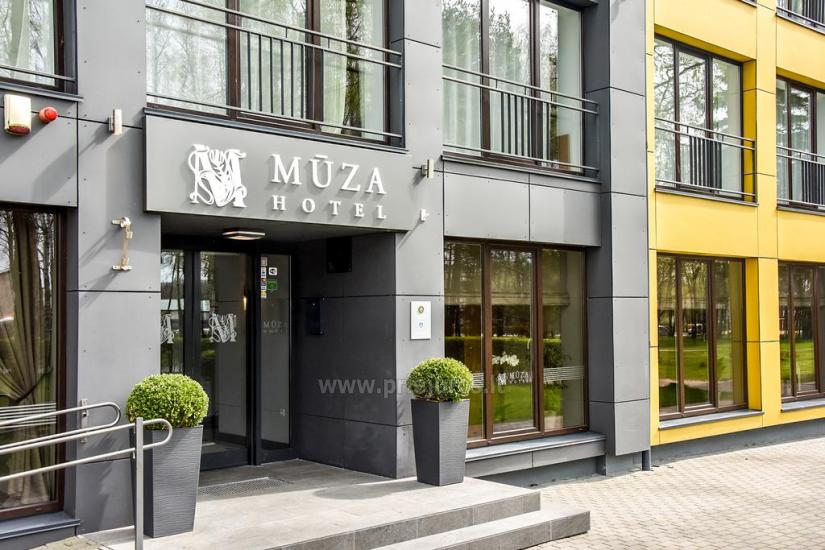 Updated 20 August, 2023

Hotel "Muza" *** is nestled in a very convenient resort place, the hotel is a few steps to the city center - close to the bus station, market place, shopping destinations and only 600 meters away to the seaside. Helpful staff welcomes visitors with intimate hospitality - treats you with attention and diligence and cater for your individual needs and priorities.
The four-storey hotel is designed in quietly elegant and functional Scandinavian style: pastel colours tend to dominate interior and softly distributed light creates a calming and restful atmosphere. To delight the senses of visitors all hotel windows overlook the greenery of Palanga.
The hotel offers 31 rooms and suites: a luxury suite, 4 suites, 4 mini suites, 18 double rooms (2 rooms for disabled guests) and 4 family rooms. Most rooms are functionally equipped to ensure comfort for families with children. To meet guests' convenience, this Palanga accommodation offers an elevator. The hotel corresponds to the standard amenity requirements typical for European 3-star hotels.
Inquiry to the service provider
Contacts and information
Address

Virbališkės tak. 2, Palanga, Lithuania Map

We speak

Lithuanian, English, Russian

Phone no.

+370 678 77793 (LT, EN, RU); +370 676 02204 (LT, EN, RU)

Website

Facebook

Open

all Year Round

Minimum stay

1 nights
Facilities

Refrigerator without freezer compartment

Wireless internet (Wi-Fi)

Transfer to/from nearest airport

Tourist groups accommodation

Possibility for disabled travellers
Approximate distances
Approximate distances
Number of rooms / capacity
Number of rooms

31

Rooms

doubles, triples, quadruples, for 5 persons

Available number of guests

94
Price per room per night
Low season

Low season

August 21 - June 16

i

High season

High season

June 17 - August 20

i

New Year

New Year

December 31 - January

i

from 27 to 65 € per night
from 54 to 128 € per night
from 190 to 360 € per night
The price does not include Local Municipality tax ("pillow tax") - 2 € per person per night (no tax for children under 18 years old)
Bank Account Number (IBAN)

LT15 7300 0100 0234 8932

Bank

Swedbank AB SWIFT: HABALT22

Bank address

Konstitucijos pr. 20A, Vilnius

Booking is confirmed after deposit – 100% of the total price

Advance payment must be paid right after the agreement

Free booking cancellation

2 weeks before arrival (later the payment is non-refundable)
Policies
Check-in

from 14:00

Check-out

to 12:00

Quiet time

from 23:00 to 08:00

No smoking inside

Accommodation with pets

not allowed

Minimum stay

1 nights
View larger map // Navigate to Virbališkės tak. 2, Palanga, Lithuania
Entertainment and services
Conference Hall in Hotel "Muza"
Virbališkės takas 2
Restaurant "Muza" in Palanga
Virbališkės takas 2
New Year Eve in hotel "Muza" in Palanga
Virbališkės takas 2
"MŪZA" guests ratings
This place was rated by 6 guests:
Overall rating

4.3 / 5

Value for money

4.3 / 5

Service culture

5.0 / 5

Cleanliness, tidiness

4.5 / 5

Comfort of the rooms

4.0 / 5

Environment, surroundings

4.3 / 5

Location

4.5 / 5
Guests recommend this place for:
For single travellers

2 holidaymakers

Families with older children (7 years and older)

1 holidaymakers

For youth

1 holidaymakers

For families with younger children (under 7 years)

1 holidaymakers

For groups of tourists

1 holidaymakers
Guests recommend these activities in Palanga:
Quiet rest

4 holidaymakers

Visiting cafes, restaurants, bars

3 holidaymakers

Spending time on the beach

3 holidaymakers

Riding a bicycle

3 holidaymakers

Visiting points of interest (museums, natural monuments, historical places of the town and etc.)

1 holidaymakers