Apartments and rooms for rent in Palanga, in Kunigiskes
Partneris
Member since 2011 year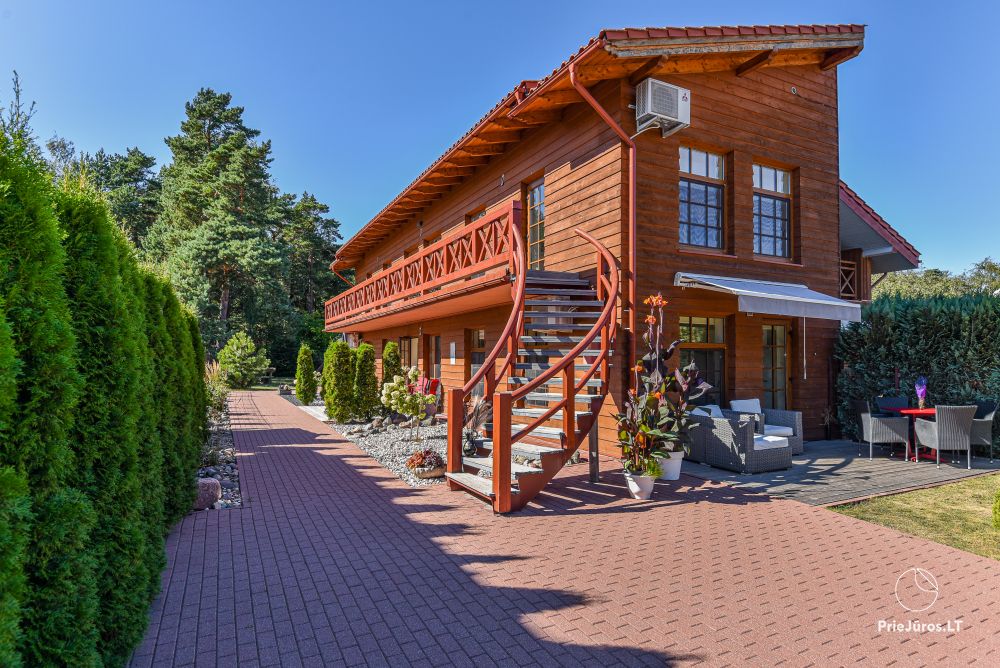 Updated 05 June, 2023
The house is situated near the pine forest and close to the the sea (200 meters).
Private yard, where there is car parking lot.
For your stay:
Triple rooms (studio);
Quadruple apartments.
Each room has:
Mini-kitchen;
A separate entrance;
Toilet and shower.
For your entertainment:
Table tennis;
Sauna with a swimming pool (for an extra fee);
Bicycles (for an extra fee);
Grills.
Rent prices for Užkanavės 79, Palanga:

May 1st - August 25th
Triple rooms (studio) 55 Eur per night;
Quadruple apartments 70 Eur per night.
​Other periods are available upon request.
Reservations last 24 hours. You have to pay the advanced payment in 24 hours or the reservation will be canceled. If guest cancels the reservation advanced payment is not returned.
No. 1 Quadruple Room
Availability calendar
available
booked
closed
Calendar updated – 2021-08-28 20:38
Nr. 2 Triple room
Availability calendar
available
booked
closed
Calendar updated – 2021-08-28 20:39
No. 3 Quadruple Room
Availability calendar
available
booked
closed
Calendar updated – 2021-08-28 20:39
No. 4 Quadruple Room
Availability calendar
available
booked
closed
Calendar updated – 2021-08-28 20:39
Nr. 5 Triple room
Availability calendar
available
booked
closed
Calendar updated – 2021-08-28 20:39
No. 6 Quadruple Room
Availability calendar
available
booked
closed
Calendar updated – 2021-08-28 20:39
Inquiry to the service provider
Contacts and information
Address

Užkanavės g. 79, Palanga, Lithuania Map

Phone no.

+370 687 31875 (LT, RU); +370 685 08888 (LT, RU)

Website

Open

all Year Round
Facilities

Separate entrance from the outside

Wireless internet (Wi-Fi)
Approximate distances
Approximate distances

Nearest Cafe (restaurant)

~

50 m
Number of rooms / capacity
Number of rooms

7

Rooms

doubles, triples, quadruples

Available number of guests

30
Price per room per night
High season

High season

May 1 - August 26

i

Low season

Low season

August 27 - April 30

i

from 60 to 85 € per night
from 50 € per night
Advance payment must be paid right after the agreement
Policies
Accommodation with pets

not allowed
View larger map // Navigate to Užkanavės g. 79, Palanga, Lithuania
Entertainment and services
Apartments and rooms for rent in Palanga, in Kunigiskes
Užkanavės g. 79, Kunigiškės
Kambarių nuoma Kunigiškiuose, Užkanavės g. 79, Palanga guests ratings
This place was rated by 11 guests:
Overall rating

3.6 / 5

Value for money

3.6 / 5

Service culture

3.3 / 5

Cleanliness, tidiness

3.7 / 5

Comfort of the rooms

3.9 / 5

Environment, surroundings

3.9 / 5

Location

4.5 / 5
Guests recommend this place for:
For families with younger children (under 7 years)

8 holidaymakers

For single travellers

2 holidaymakers

For romantic vacation

1 holidaymakers
Guests recommend these activities in Palanga:
Quiet rest

8 holidaymakers

Riding a bicycle

8 holidaymakers

Spending time on the beach

7 holidaymakers

Sport activities

6 holidaymakers

Visiting cafes, restaurants, bars

1 holidaymakers