Villa Uosis - a cozy, modern holiday apartments
Partneris
Member since 2010 year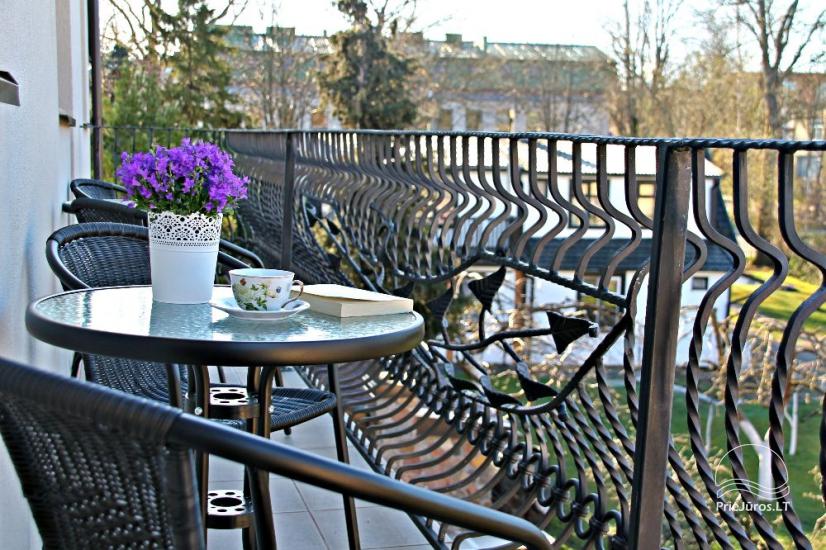 Avaialble for Christmas, New Year
Updated 28 November, 2023
Last minute offers and discounts
APARTMENT in the very center of Palanga, Jūratės st. near the playing fountains, 1st floor with separate entrance and terrace. Price per night fthemselve. Max .4 guests.

Or

We invite you to stay in Vila UOSIS and have a rest in Palanga. Sea, fresh air ... And for those who have too much calm, they can also pamper themselves with active entertainment. At the moment, we are offering extremely favorable discounts for guests on the Vila.

Vila Uosis
vilauosis@gmail.com, +370 69889760
www.vilauosis.lt
Updated 10:15, 28 November, 2023
Vila Uosis is a cozy, modern holiday apartments.
We are located in a quiet part of the resort, next to a pine forest, close to the health trail "Labrytys" and the children's favorite playground, just a 10-minute walk to the sea.
For the coziness, cleanliness and comfortable rest we were loved and highly appreciated by our regular guests.
We have a play area for children and a trampoline outside. In the courtyard, guests can enjoy their favorite barbecue on the outdoor grill, sit back and relax on a rocking chair, or enjoy a cup of tea and a book.
Amenities and benefits:
Enclosed yard with parking space;
Safe room for bicycles;
Children's play corner;
Outdoor barbecue and terrace;
Recreation areas;
Cable TV;
Room cleaning (scheduled);
Free Wi-Fi;
Kitchens with basic cooking utensils and crockery (for 5 rooms, each floor has its own KITCHEN), iron and ironing board;
Child seat (free of charge, on request);
Baby cots (for children under 2 years, for an additional agreed price);
Heating (only relevant in the cold season).
Rooms
Villa has double, triple, quadruple, spacious comfortable quadruple rooms and three family studios with separate entrances and kitchenettes.
All rooms have spacious family double beds and respectively: single beds or pull-out double sleeping areas, WC, shower, bed linen, flat-screen TV, wardrobes, towels, refrigerators.
Some rooms have terraces and balconies.
Double room
Double room with balcony
Triple room
Classic quadruple room
Convenient quadruple room
Family studio
For a larger lounge area with kitchenette, guests can rent a family studio. Villa Uosis has two apartments, which can accommodate a family of up to 8 people on two floors together or separately (4 on each floor). The apartments have separate entrances.
Common, lounge areas
Inquiry to the service provider
Contacts and information
Address

Sermiesčio g. 8, Palanga, Lithuania Map

We speak

Lithuanian, Russian

Phone no.

+370 698 89760 (LT, RU); +370 683 94216 (EN)

Viber phone number

+370 698 89760

Website

Facebook

Open

January, February, April, May, June, July, August, September, December

Minimum stay

high season – 1 nights
low season – 1 nights
Facilities

Separate entrance from the outside

in some rooms

Shower and WC

in every per room

Terrace / Balcony

in some rooms

Kitchen private

in some rooms

Mini kitchenette

in some rooms

Refrigerator without freezer compartment

in every per room

Refrigerator with freezer compartment

in some rooms

Microwave oven

in some rooms

Wireless internet (Wi-Fi)

in every per room

Cable / SAT TV

in every per room

Double bed

in every per room

Hair dryer

in every per room

Ironing board

in some rooms

Wireless Internet (Wi-Fi)

Some of the rooms have kitchen

Transfer to/from nearest airport

Tourist groups accommodation
Approximate distances
Approximate distances

Nearest Cafe (restaurant)

~

800 m
Number of rooms / capacity
Number of rooms

20

Number of rooms per room

one-room, two-room

Rooms

doubles, triples, quadruples, for 8 persons

Available number of guests

63
Price per room per night
Low season

Low season

High season

High season

New Year

New Year

from 40 to 60 € per night
from 45 to 75 € per night
from 50 to 110 € per night
The price does not include Local Municipality tax ("pillow tax") - 2 € per person per night (no tax for children under 18 years old)
Booking is confirmed after deposit – 30% of the total price

Advance payment can be paid

by bank transfer
cash


Advance payment must be paid in 1 day after the agreement

Free booking cancellation

2 weeks before arrival (later the payment is non-refundable)

Remaining payment must be paid

at check-in in cash
Policies
Check-in

from 15:00

Check-out

to 11:00

Quiet time

from 22:00 to 08:00

No smoking inside

Accommodation with pets

not allowed

Minimum stay

high season – 1 nights
low season – 1 nights
View larger map // Navigate to Sermiesčio g. 8, Palanga, Lithuania