"Fetingas" - wooden houses and guest house on the river bank
Partneris
Member since 2010 year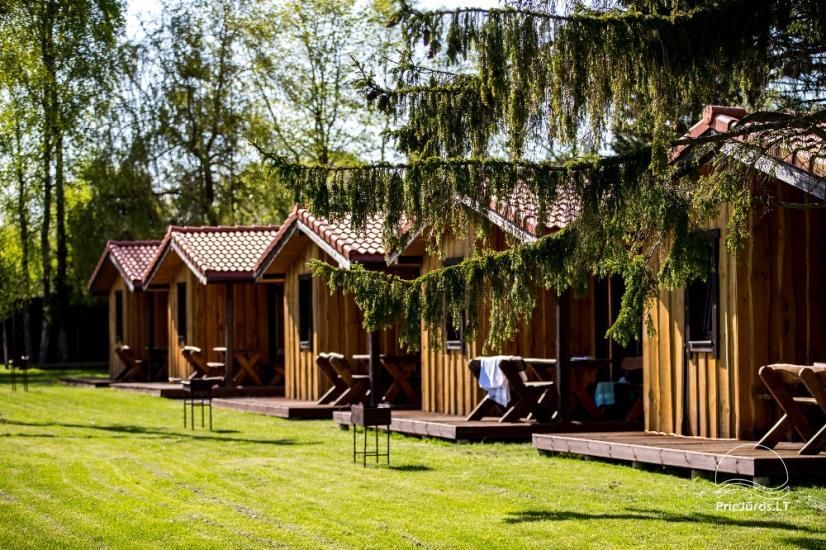 Updated 18 August, 2023
Recreation homes are located next to the central part of Šventoji resort.
The distance to the central street is 4-5 minutes walk, to the river - 80 meters, to the sea 500 meter.
We offer newly built and fully equipped wooden houses with cozy terraces.
In cottages:
Double and single beds;
A kitchenette with a gas stove, a refrigerator, and all the utensils and tools necessary for eating and cooking;
LCD TVs;
Shower, WC;
Terrace with furniture.
For your convenience:
We offer bicycle hire for active leisure;
We offer bed linen on request. One set price - 4 €;
Maneez for children;
Parking space - free of charge;
Barbecue places;
Children's playground, swings, outdoor pool;
Basketball court;
Wireless internet (Wi-Fi).
Availability calendar
available
booked
closed

Calendar updated – 2023-11-17 07:56
Inquiry to the service provider
Contacts and information
Address

Žemdirbių g. 16, Sventoji (Palanga), Lithuania Map

We speak

Lithuanian, English, Russian

Phone no.

+370 677 50900 (LT, EN, RU); +370 671 63516 (LT, EN, RU)

Website

Facebook

Open

all Year Round
Facilities

Separate entrance from the outside

in every per room

Shower and WC

in every per room

Terrace / Balcony

in every per room

Mini kitchenette

in every per room

Refrigerator with freezer compartment

in every per room

Wireless internet (Wi-Fi)

in every per room

Double bed

in every per room

Possibility for disabled travellers
Approximate distances
Approximate distances
Number of rooms / capacity
Number of rooms

19

Number of rooms in the holiday cottage

one-room, two-room

Max. number of persons in the holiday cottage

5

Available number of guests

61
Price per holiday cottage per night
Low season

Low season

High season

High season

New Year

New Year

from 30 to 90 € per night
from 30 to 90 € per night
from 50 to 90 € per night
The price does not include Local Municipality tax ("pillow tax") - 2 € per person per night (no tax for children under 18 years old)
Bank Account Number (IBAN)

LT07 7300 0100 9328 5800

Bank

Swedbank AB SWIFT: HABALT22

Bank address

Konstitucijos pr. 20A, Vilnius

Booking is confirmed after deposit – 15% of the total price

Advance payment can be paid

by bank transfer
cash
by money transfer via TransferGo
by money transfer via post


Free booking cancellation

2 weeks before arrival (later the payment is non-refundable)

Remaining payment must be paid

at check-in in cash

In case of shortening the period of stay, the payment is non-refundable

We issue invoices to companies

Yes
Policies
Check-in

from 14:00

Check-out

to 12:00

Quiet time

from 23:00 to 07:00

No smoking inside

Accommodation with pets

allowed by prior arrangement
View larger map // Navigate to Žemdirbių g. 16, Sventoji (Palanga), Lithuania
Poilsiavietė "Fetingas" guests ratings
This place was rated by 24 guests:
Overall rating

4.8 / 5

Value for money

4.7 / 5

Service culture

4.8 / 5

Cleanliness, tidiness

4.6 / 5

Comfort of the rooms

4.7 / 5

Environment, surroundings

4.8 / 5

Location

4.9 / 5
Guests recommend this place for:
For families with younger children (under 7 years)

18 holidaymakers

Families with older children (7 years and older)

4 holidaymakers

For companies of friends

2 holidaymakers
Guests recommend these activities in Sventoji (Palanga):
Quiet rest

18 holidaymakers

Spending time on the beach

14 holidaymakers

Riding a bicycle

8 holidaymakers

Sport activities

6 holidaymakers

Visiting points of interest (museums, natural monuments, historical places of the town and etc.)

5 holidaymakers

Visiting cafes, restaurants, bars

4 holidaymakers

Visiting nightclubs

2 holidaymakers

Participating in excursions

2 holidaymakers

Shopping

2 holidaymakers

Visiting events / festivals / concerts / shows

2 holidaymakers

Other (enter)

1 holidaymakers

Visiting SPA / sanatorium

1 holidaymakers