Apartments for rent in Palanga "Holiday in Palanga"
Partneris
Member since 2010 year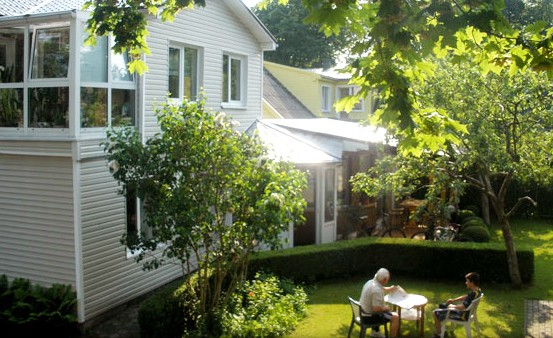 Updated 14 September, 2023
Are you searching for a quiet, comfortable holiday place? We kindly invite you to spend your holidays and experience some unforgettable moments in a beautiful villa "Holiday In Palanga" located in the heart of Palanga.
The villa is surrounded by beautiful pine trees, nearby there is a pedestrian and bicycle path, shop, cafe, pharmacy. If looking for wholesome recreation, clean and not too croaded beaches just 5 minutes away walking by feet - "Holiday In Palanga" is just a perfect place for you!
Visit us any time! New building offers modern facilities, fully furnished appartments perfectly suitable for 3, 4 or 5 persons, as well as a double/triple suite with a separate entrance.
Comfortable and warm appartments are ideal for families or couples stay. Our double or triple rooms, that have a separate entrance from the courtyard, kitchen, bathroom with shower, are recommended for couples or young families with a child.
Room rental rates:
Rooms, apartments
Guests per
apartment

05.15-06.15

06.16-08.15

08.16-09.15

09.16-10.15

12.24-12.31
Two double 1 room apartments No.4 and No.5

2+1

25-35 EUR

55-60 EUR

30-35 EUR

25-30 EUR

-

2 rooms apartment No.1

4

35-45 EUR

60-75 EUR

40-50 EUR

35-45 EUR

60 EUR

2 rooms apartment with the view to the garden No.2

5-6

50-60 EUR

85-100 EUR

60-75 EUR

50-60 EUR

-

2 bedroom apartment with balcony No.3

2+3

50-60 EUR

85-100 EUR

60-75 EUR

50-60 EUR

-
We are open all year-around! Staying longer you will get discounts!
Information:
Check-in from 15.00. Check-out time - 12.00;
Local Municipality tax ("pillow tax") - 1 EUR per person (18 year-old and over) per night;
Pets allowed;
Free wireless internet (Wi-Fi);
Security alarm in the house;
Payments: cash, bank transfer.
No. 1 quadruple apartment
Availability calendar
available
booked
closed
Calendar updated – 2023-09-12 12:01
No. 2 quadruple apartment
Availability calendar
available
booked
closed
Calendar updated – 2023-09-14 10:16
No. 3 apartment for up to 5 persons
Availability calendar
available
booked
closed
Calendar updated – 2023-09-12 12:03
No. 4 triple studio with a terrace and outdoor furniture
Availability calendar
available
booked
closed
Calendar updated – 2023-09-12 12:02
No. 5 Double - triple studio
Availability calendar
available
booked
closed
Calendar updated – 2023-09-14 10:16
Inquiry to the service provider
Contacts and information
Address

Jūros tak. 3, Palanga, Lithuania Map

We speak

Lithuanian, Russian

Phone no.

+370 614 19403 (LT, RU); +370 698 40720 (LT, RU)

Website

Open

January, February, March, April, May, June, July, August, September, October, November, December

Minimum stay

3 nights
Facilities

Separate entrance from the outside

Wireless internet (Wi-Fi)

free (prior reservation is required)
Approximate distances
Approximate distances

Palanga Botanical Park

~

170 m

Palanga sea bridge

~

1.46 km

Nearest Cafe (restaurant)

~

50 m

Palanga swimming pool

~

1.29 km

Palanga children's park

~

2.4 km

Palanga concert hall

~

500 m

Palanga TIC (Tourist Information Center)

~

790 m

Lithuanian Sea Museum

~

38 km

Palanga bus station

~

1.46 km

Klaipeda bus station

~

26 km

Klaipeda Railway Station

~

26 km

Kretinga Railway Station

~

14 km

Curonian spit National park

~

39 km
Number of rooms / capacity
Number of rooms

5

Rooms

doubles, triples, quadruples, for 5 persons, for 6 persons

Available number of guests

16
Price per room per night
High season

High season

June 16 - September 15

i

Low season

Low season

September 16 - June 15

i

New Year

New Year

December 24 - December

i

from 55 to 90 € per night
from 25 to 60 € per night
60 € per night
The price does not include Local Municipality tax ("pillow tax") - 2 € per person per night (no tax for children under 18 years old)
Bank Account Number (IBAN)

LT12 7300 0100 1023 7608

Bank

Swedbank AB SWIFT: HABALT22

Bank address

Konstitucijos pr. 20A, Vilnius

Booking is confirmed after deposit – 10% of the total price

Advance payment must be paid right after the agreement

Free booking cancellation

1 week before arrival (later the payment is non-refundable)
Policies
Check-in

from 15:00

Check-out

to 12:00

Quiet time

from 23:00 to 07:00

No smoking inside

Accommodation with pets

allowed

Minimum stay

3 nights
View larger map // Navigate to Jūros tak. 3, Palanga, Lithuania