"7 Lemon" mini vilas by the sea. In the dunes
Partneris
Member since 2015 year
Updated 17 October, 2022
Holiday cottages "7 Lemon" - bungalows at the very edge of dunes and the beach of the Baltic sea in Sventoji (a part of the city Palanga).
We offer quadruple bungalows with amenities
Quietness, privacy, Beautiful nature, exclusive location, near the center of the resort Sventoji.
Every bungalow has:
Mini-kitchenette with electric stove, refrigerator.
Shower and WC.
LCD TV with Lithuanian digital TV.
Terrace.
"7 Lemon" depends to a club "Relax Park", so our guests get discounts in the nearby:
Cafe / restaurant with a large outdoor terrace.
Conference hall.
Free parking.
Kid's playground.
Availability calendar
available
booked
closed

Calendar updated – 2022-08-24 09:49
Inquiry to the service provider
Contacts and information
Address

Kuršių tak. 3, Sventoji (Palanga), Lithuania Map

We speak

Lithuanian, English, Russian

Phone no.

+370 685 20022 (LT, EN, RU); +370 685 20002 (LT, RU)

Viber phone number

+370 685 20002

Whatsapp phone number

+370 685 20002

Open

April, May, June, July, August, September, October

Minimum stay

4 nights
Facilities

Separate entrance from the outside

in every per room

Shower and WC

in every per room

Terrace / Balcony

in every per room

Mini kitchenette

in every per room

Refrigerator with freezer compartment

in every per room

air conditioning

in every per room

Double bed

in every per room

Bedding (free)

in every per room
Approximate distances
Approximate distances

Nearest Cafe (restaurant)

~

50 m

Seaside bicycle path

~

10 m

Sventoji lighthouse

~

1.79 km

Port of Sventoji

~

1.59 km

Lithuanian Sea Museum

~

55 km

Sventoji Bus Station

~

1.31 km

Palanga bus station

~

18 km

Curonian spit National park

~

56 km
Number of rooms / capacity
Number of rooms in the holiday cottage

1 room

Max. number of persons in the holiday cottage

4

Holiday cottage area

25 m²

Available number of guests

16
Price per holiday cottage per night
Low season

Low season

August 30 - June 17

i

High season

High season

June 18 - August 29

i

from 50 to 55 € per night
from 70 to 80 € per night
The price does not include Local Municipality tax ("pillow tax") - 1 EUR per person per night (no tax for children under 18 years old)
Bank Account Number (IBAN)

LT69 7180 9000 0646 8704

Bank

AB Šiaulių bankas SWIFT: CBSBLT26

Booking is confirmed after deposit – rental price for 1 day(s)

Advance payment can be paid

by bank transfer


Advance payment must be paid in 2 days after the agreement

Free booking cancellation

2 months before arrival (later the payment is non-refundable)

Remaining payment must be paid

at check-in in cash or by bank transfer

In case of shortening the period of stay, the payment is non-refundable

We issue invoices to companies

Yes
Policies
Check-in

from 14:00

Check-out

to 12:00

Quiet time

from 22:00 to 08:00

No smoking inside

Accommodation with pets

not allowed

Minimum stay

4 nights
View larger map // Navigate to Kuršių tak. 3, Sventoji (Palanga), Lithuania
"7 Lemon" guests ratings
This place was rated by 19 guests:
Overall rating

4.6 / 5

Value for money

4.5 / 5

Service culture

4.4 / 5

Cleanliness, tidiness

4.3 / 5

Comfort of the rooms

4.1 / 5

Environment, surroundings

4.4 / 5

Location

5.0 / 5
Guests recommend this place for:
For families with younger children (under 7 years)

11 holidaymakers

For romantic vacation

5 holidaymakers

Families with older children (7 years and older)

2 holidaymakers

For companies of friends

1 holidaymakers
Guests recommend these activities in Sventoji (Palanga):
Spending time on the beach

16 holidaymakers

Quiet rest

16 holidaymakers

Riding a bicycle

9 holidaymakers

Visiting cafes, restaurants, bars

6 holidaymakers

Sport activities

5 holidaymakers

Visiting points of interest (museums, natural monuments, historical places of the town and etc.)

3 holidaymakers

Visiting SPA / sanatorium

3 holidaymakers
Other recommended places in in Sventoji (Palanga)
Wooden Houses, apartments for Rent "Smilgu kopos"
Žemaičių Alkos g. 8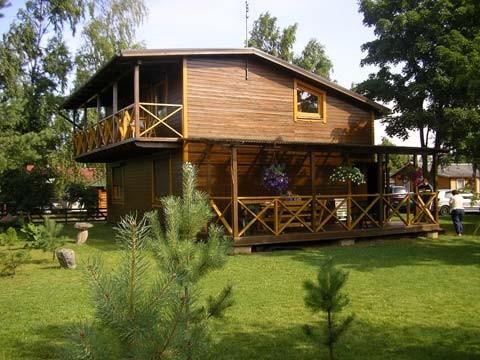 Room rent in wooden holiday houses at the sea
Pylimo g. 22
Holiday house for rent in Sventoji
Gubojų g. 12