Three rooms apartment inJuodkrante, Curonian Spit
Partneris
Member since 2021 year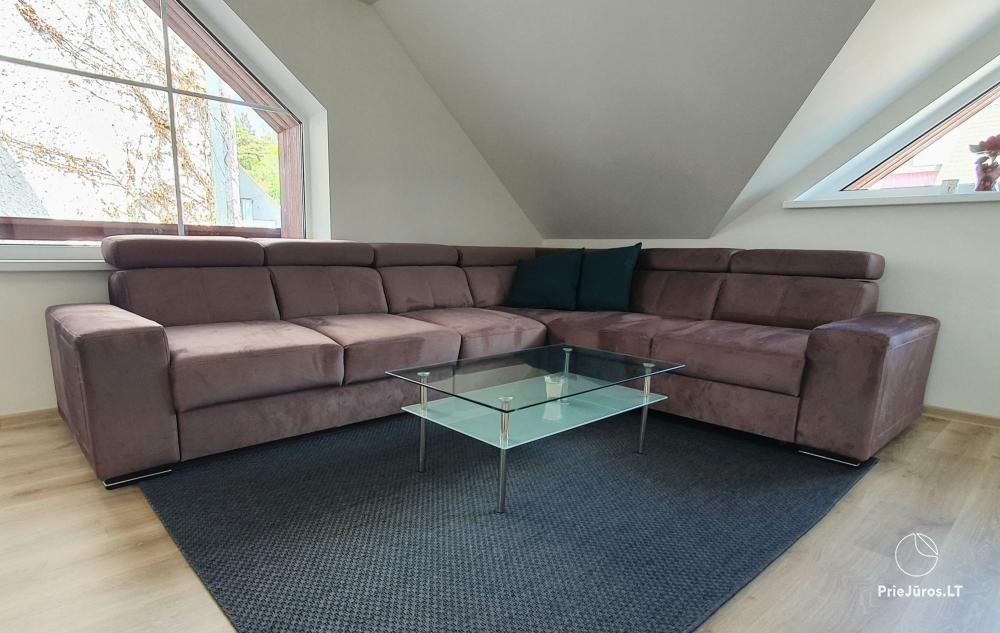 Updated 14 September, 2023
A cozy 3-room apartment with a balcony in Juodkrante is for rent.
The house is in a quiet place in the center of Juodkrantė. Asphalted path to the sea, distance 1.3 km. 50 meters to the Curonian Lagoon.
Apartment over 2 floors, attic, perfect for family vacations (sleeps 4+2).

APARTMENT AMENITIES:
On the second floor of the apartment there are two bedrooms: one with a double bed, the other with two single beds. Bedding.
The kitchen is fully equipped - there is a dishwasher, electric stove, hood, microwave, refrigerator, kettle, coffee machine, toaster, dishes and pots, so you can prepare food at home if you wish.
The bathroom has a washing machine, hair dryer, iron, ironing board, hot water from the boiler, heated floor. Towels.
The living room has a spacious sofa, which has 2 sleeping places if needed, TV, cable TV and Wifi internet.
Balcony with chairs.
There is a secure closed corridor at the door of the apartment where bicycles can be securely locked.
Parking in the lot belonging to the house.
We communicate in Lithuanian, Russian and English.
In order to stay for 5-6 people, it is necessary to notify in advance.
The rental price depends on the length of stay from 100-130 € per day in the summer season.
Availability calendar
available
booked
closed

Calendar updated – 2023-09-25 12:34
Inquiry to the service provider
Contacts and information
Address

Vilų g. (former Kalno g.) 36, Juodkrante, Lithuania Map

We speak

Lithuanian, English, Russian

Phone no.

+370 615 76902 (LT, EN, RU); +370 614 38456 (LT, RU)

Viber phone number

+370 615 76902

Website

Open

all Year Round

Minimum stay

high season – 2 nights
low season – 2 nights
Facilities

Refrigerator with freezer compartment

Wireless internet (Wi-Fi)
Approximate distances
Approximate distances

Nearest Cafe (restaurant)

~

50 m

Seaside bicycle path

~

100 m
Number of rooms / capacity
Number of rooms in the apartment

3 rooms

Max. number of persons in the apartment

6
Price per apartment per night
High season

High season

June 1 - August 31

i

Low season

Low season

September 1 - May 31

i

from 110 to 130 € per night
from 50 to 100 € per night
Price per apartment per night

negotiable price
Long term rental price (long term rental - only off-season)
from 350 to 450 € per motnh (+ Municipal taxes)
Minimum long-term rental period – 1 month(s)
Booking is confirmed after deposit – 20% of the total price

Advance payment can be paid

by bank transfer


Advance payment must be paid in 2 days after the agreement

Free booking cancellation

4 weeks before arrival (later the payment is non-refundable)

Remaining payment must be paid

at check-in in cash

In case of shortening the period of stay, the payment is non-refundable

Deposit

100 €
Policies
Check-in

from 14:00 to 15:00

Check-out

to 11:00

Quiet time

from 21:00 to 08:00

No smoking inside

Accommodation with pets

allowed by prior arrangement

For parties

not for rent

Minimum stay

high season – 2 nights
low season – 2 nights
View larger map // Navigate to Vilų g. (former Kalno g.) 36, Juodkrante, Lithuania
Butas Juodkrantėje, Kalno g. 36 guests ratings
This place was rated by 5 guests:
Overall rating

5.0 / 5

Value for money

4.8 / 5

Service culture

5.0 / 5

Cleanliness, tidiness

5.0 / 5

Comfort of the rooms

5.0 / 5

Environment, surroundings

5.0 / 5

Location

5.0 / 5
Guests recommend this place for:
Families with older children (7 years and older)

3 holidaymakers

For companies of friends

1 holidaymakers

For families with younger children (under 7 years)

1 holidaymakers
Guests recommend these activities in Juodkrante:
Spending time on the beach

5 holidaymakers

Riding a bicycle

4 holidaymakers

Quiet rest

4 holidaymakers

Visiting cafes, restaurants, bars

3 holidaymakers

Sport activities

2 holidaymakers

Visiting points of interest (museums, natural monuments, historical places of the town and etc.)

1 holidaymakers